Bring the shore to your door, with a custom pool shell from Thursday Pools by Easy Living Pools!
American-Made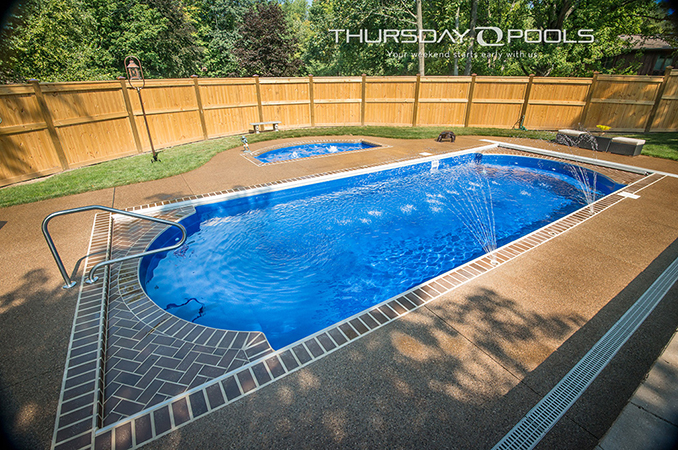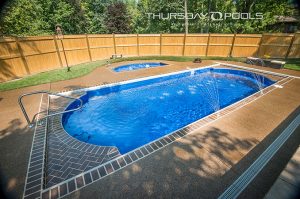 Thursday Pools are manufactured right here in the United States. Thursday Pools proudly boasts a large, state-of-the-art manufacturing facility in Fortville, Indiana that surpasses ISO 9001 standards and EPA and OSHA criteria. Again and again, they set the industry standard for the highest quality fiberglass pools, meticulously manufacturing your own personal pool paradise.
They have continued to offer innovation, comfort, and convenience with their custom-designed pool shells. In their daily operations, they honor the environment with ultra-high-efficiency and green operations, all within a climate-controlled setting. With over 35 years in the industry, Thursday Pools remains a premier choice for fiberglass swimming pools.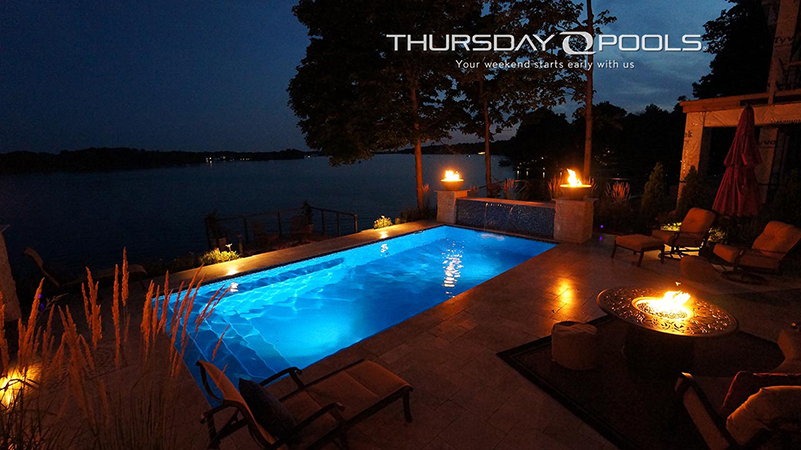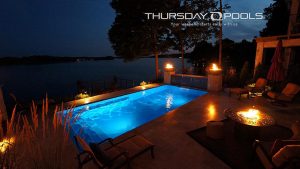 Revolutionary Design
With breathtaking designs available in all sizes, shapes, and colors, Thursday Pools have a versatility that is typically not available from their competitors. From 40' to just 8', we can surpass all expectations with custom features like lounging areas, custom spillways, sun shelves, and spas. Unlike concrete or vinyl liner pools that require multiple pieces, fiberglass shells by Thursday Pools require only a single piece, making the installation process more efficient.
The craftsmanship is undeniable, matched only by an absolute dedication to safety and quality. No detail goes overlooked to ensure that your investment brings years of fun without excess chemicals and burdensome maintenance. Enjoy your pool that much sooner with a more streamlined installation process than that of traditional swimming pools.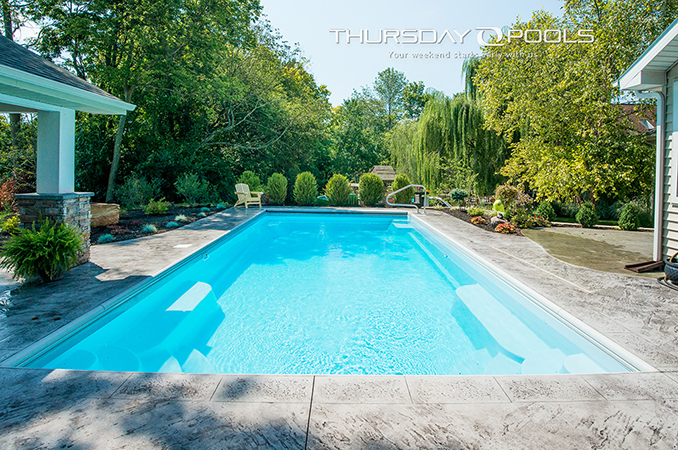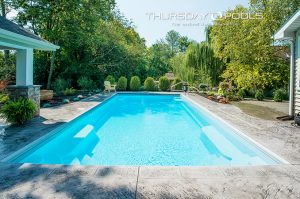 Reinforced Support
Thursday Pools create pool shells that are constructed from a unique blend of chopped fiberglass and roving fiberglass. A unique honeycomb core offers strength and durability. Combined with a gel coat and vinyl ester barrier coat, these act as a powerful sealant allowing your pool to withstand extended pressure easily.
A fiberglass shell by Thursday Pools is built to stand the test of time, even with our most significant models, Goliath and Aspen. A slanted design allows for the extra weight that comes from gallons and gallons of water combined with substantial, built-in features like bench seating and loungers. They are so confident that they guarantee the structural integrity of your pool with a lifetime, transferable warranty!
But those aren't the only reasons why Thursday Pools are a perfect fit for your new swimming pool.
What's new at Thursday Pools?
Our team is always one step ahead of technology, chasing innovation and prioritizing creativity in a way that will transform your home into a resort-worthy escape you can enjoy. By partnering with Thursday Pools, we are able to offer a series of new amenities and services!
In addition to the AMSI/NSPI-5 pool design requirements, we offer these exciting new features!
The fiberglass pool anchoring system alleviates ground pressure to keep your pool in place.
The Lucky 7 Skimmer® uses an extended mounting plate to completely cover the fiberglass while aesthetically improving the look of your pool with a 7-degree angle.
A Backfill Eliminator® provides extra reinforcement for the additional weight of your new integrated tanning ledge.
The first Fiberglass Beach Entry Pool is a revolutionary design that features a gently sloping beach entry with a luxury previously only found at five-star resorts.
There is a continued dedication to emerging technology and developments and to always remain ahead of the curve, offering you a product that is superior in every way. With Thursday Pools, our entire team will provide your family with a backyard oasis beyond your expectations.